Last revised: 6/14/2022 by ess
Overview:
This article provides instructional material alternatives, with examples, for use in online, hybrid, and face-to-face courses.  Three options will be considered. Should you "make", "buy" or look for "free" materials that support your learning objectives?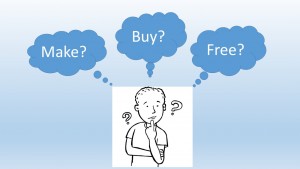 Making Your Own Instructional Materials 
Making your own instructional material to meet the needs of your students is always an option.  There are pros and cons to creating your own materials.  One of the biggest payoffs is that the materials can be customized specifically for your students and your learning objectives.  Another benefit to making your own materials is your ability to share those materials with a larger community (possibly via a creative commons license).  Customization does come at a price…time!  Depending on what you are creating, it can take some time to develop thoughtful, focused, relevant learning materials for your students.  Take a look at the following table for a few examples of instructional materials you can make yourself (Note: This table is not exhaustive).
  Table 1. A few options for "Making" your own instructional materials.
Buying Instructional Materials 
There are many options for buying materials.  Unfortunately, the cost of buying instructional materials is almost always passed on to the student.  Many people associate college courses with buying textbooks, but things are changing.  With a wealth of information available online today (from government websites to open educational resources), instructors should consider if students purchasing materials is really necessary.
If you plan to ask students to purchase instructional materials for your course, reflect on the following:
Is there a comparable, high quality substitute that is readily available at a lower cost or free?
Can you negotiate with the publisher to obtain a lower cost for students?
Can your students accomplish the learning objectives without purchasing the materials?
If you answered yes to any of the above questions, research your low or no cost alternatives.
*New Option for Spring 2023:  The UConn Board of Trustees approved Barnes & Noble First Day Complete Program.  This program will charge UConn undergraduate students a $285 per semester fee for textbooks and course materials, and in return students get all their required materials for all registered courses at no additional cost from the bookstore.  This program aims to help students reduce the money they spend on course materials.
Looking for Free Materials
You have heard the saying "why pay for something when you can get it for free?"  Read about Finding and Using Free Learning Materials and How to Attribute Free Learning Materials in your Courses.  If you are looking for a free, high quality textbook, check out the Open Textbook Library hosted by the University of Minnesota, Twin Cities, or visit UConn's Open Educational Resources for Teaching and Learning hosted by the UConn Library Library2.
In closing, research suggests providing students with free access to a variety of instructional materials allows you to better anticipate and respond to varying backgrounds and skills that students bring to the class.1   Zero cost materials also results in higher success rates, higher completion rates, and better grades.3
Key Strategies to Ensuring Accessible Course Materials

When deciding on your instructional material you must also consider accessibility. Review these UConn IT Accessibility Key Strategies to Develop Accessible Course Materials web resources to ensure your materials are accessible to all students.
For more information visit: 
References: 
University of Minnesota Open Textbook Library at https://open.umn.edu/opentextbooks/.
University of Connecticut Library Open (and Alternative) Educational Resources – Find Open at https://guides.lib.uconn.edu/oer.
WUSF Public Media (University of South Florida, Tampa Bay).  Survey: Textbook Costs Having Greater Impact on Students During Pandemic (March 1, 2021).
---
---